Ductless Vs Duct Heating and Cooling
No matter the season, we're always experiencing intense weather in the northeast. From blizzards in winter to scorching summer days, it's important to make sure your home has all the HVAC equipment you need to keep your home safe and comfortable in any weather.
How do you choose the right heating and cooling system? Which will keep you comfortable without requiring frequent maintenance or being an eyesore inside your home? The answer is simple — ductless heating and cooling is the perfect solution for a low-maintenance system that fits into the rest of your home — and budget.
How Do Ductless Heat Pumps Work?
Traditional heat pumps use ducts to transfer heat, moving air from outside into your home, or vice versa for cooling systems. While these systems work well in theory, they can cause problems ranging from allergies and rodent infestations to leaks and frequent blockages. The systems include ducts and other components which need periodic maintenance and repairs.
Luckily, there is a much better solution — ductless heating. While traditional pumps use ducts to heat, ductless heat pumps work by blowing warm air directly into the room. They connect directly to an outdoor compressor that heats the air before sending it to the indoor unit, which distributes it throughout the room where it's installed.
These systems can be installed nearly anywhere in a home, from the ceiling or wall to the floor. While they are not the most powerful heating system, they are extremely efficient and can circulate air throughout the house without using an expensive, inconvenient duct system.
How Do Ductless Air Conditioners Work?
Ductless air conditioners work by linking an outdoor air compressor to individual rooms in the home. The system sucks hot air from inside the home into the outside compressor, which cools the air and recirculates it into your home. While traditional cooling systems like central air use long stretches of ducts to cool a home, ductless air conditioners pull in warm air and push cold air back out, resulting in a much quicker and more efficient cooling process.
Like ductless heat pumps, these air conditioners can be easily installed nearly anywhere in a home, and even just one system in one room can heat an entire floor better than several individual window units.
Benefits of Ductless Air Conditioning
More benefits of ductless air conditioning include:
Ease of installation: Ductless air conditioners require just one hole in a wall to connect your inside unit to the outdoor air compressor. Because of this, installing a ductless air conditioner is much easier, quicker and cheaper than installing a traditional duct system. In addition, these systems can be installed in nearly any type of home — they are not limited to homes still being constructed, unlike other air conditioning systems.
Energy conservation: Ductless air conditioning requires much less energy than other cooling systems since it uses the same air, just cooling the air temperature down, rather than pulling in air from outside or other rooms. Air ducts can account for 30% of energy losses in an air conditioning system, which is another reason why a ductless system is so energy-efficient.
Price of use: Because ductless air conditioning systems require less energy and electricity, a great benefit of ductless air conditioning is how much you will save on electricity costs.
Efficiency: Other systems have efficiency drawbacks, such as high cost and energy usage of cooling the whole house when using a duct or unit system. Ductless air conditioners are extremely effective at targeting the entire house while keeping costs down.
Maintenance: Unlike most other HVAC systems, ductless cooling systems require little maintenance. After installation, the only thing you need to worry about is adjusting the temperature to your liking and occasionally changing a filter. After that, an annual maintenance check can help you keep your system in the best condition!
Noise reduction: Ductless cooling systems are much quieter than any other type of cooling system. If you don't want to have to shout over your air conditioner, ductless systems are right for you!
Benefits of Ductless Heat Pump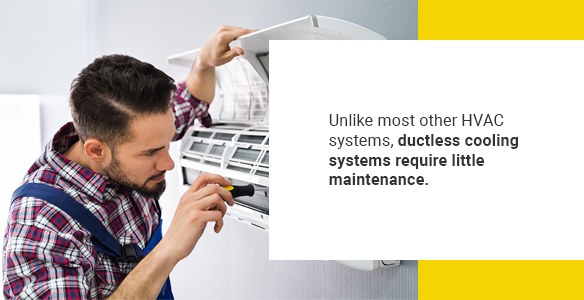 The benefits of ductless air conditioning also coincide with the advantages of ductless heating since the two systems can consolidate into one unit. In addition, ductless heating systems also offer:
Consistent temperature: Because of ductless systems' efficiency, they result in a much more consistent and comfortable temperature throughout your entire home, ensuring that one room isn't colder than the rest.
Allergy relief: Compared to duct-based heating systems, ductless heaters attract fewer allergens. They also include filters to prevent allergens from populating in the first place. These systems circulate fresh, clean air throughout your home at all times, reducing allergens significantly.
Incentives: Utility companies know the value of ductless HVAC systems, so many often give customers bill discounts, incentives and rebates for installing a ductless heat pump.
Convenient design: Ductless systems are compact and much smaller than other systems, so they won't take up too much space in your home. Plus, they can be installed nearly anywhere — even on the ceiling!
Remote control: While other heating systems require users to walk over to the system frequently to adjust the temperature, most ductless heat pumps come with a remote that allows you to control your home's temperature from wherever you are!
Schedule an Appointment for a Ductless HVAC Install With Bruni & Campisi
There are so many advantages of ductless heating and cooling, from the ease of use to the simple installation for any home to, most importantly, saving you money! This is the efficient and cost-effective HVAC system you've been looking for that is usable and affordable for anyone.
Winter is right around the corner. Is your home's heating system ready for the season? You need to ensure that your home is prepared for extreme weather. If you're ready to explore ductless HVAC systems and install one in your home, contact us at Bruni & Campisi today to schedule an appointment!