New Furnace Installation Service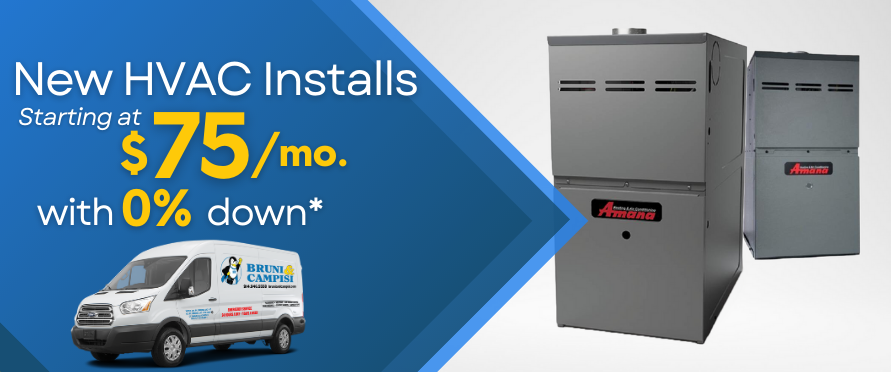 Hiring the professionals at Bruni & Campisi to install your furnace offers many benefits. You can rest assured we'll get the job done quickly and efficiently. We won't waste time figuring out which part goes where — we rely on our experience and knowledge to determine the best way to proceed with every installation.
If you need a new furnace, come to the installation experts. Bruni & Campisi can replace your old system or install a new furnace that will keep your family toasty throughout the cold New York or Connecticut winters. Our team of certified technicians works fast to get the job done. You'll have your new furnace in place in no time so you can enjoy the many advantages of a new heating system.
Find the Right Furnace Installation Experts
If you're looking for a furnace installation company, you've probably found several options. Before you make your decision, you should feel confident that you'll get the best results. Look for the following when evaluating potential furnace installation services:
Free estimates on installation.
Long-term experience.
Expertise with many different systems.
Up-to-date training for technicians and staff.
Bruni & Campisi offers all this and more. We're the best choice in Stamford, Greenwich, Putnam, Westchester, Rockland and beyond for heating furnace installation.
Furnace Installation Near You
From Bruni & Campisi
When you pick our furnace heater installation services, you get an experienced team with the knowledge to get every job done well. Our top priority is your comfort and we offer the area's best value and quality for furnace installation. We serve you with state-of-the-art technical innovations that lead to more effective installations and long-term usage.
We provide the flexibility you desire for your installation. Our team is available 24/7, with our fleet of radio-dispatched trucks ready to go at your request. You can use our online self-scheduling tool to find a time that's convenient to your schedule. You can even get same-day service, and you'll enjoy a one-year warranty on all labor.
For more than 40 years, families throughout Connecticut and Westchester County, NY, have trusted Bruni & Campisi for furnace installation. Our outstanding reputation speaks to our dedication to our customers and providing the best service. When you use our installation services, you'll enjoy the peace of mind that our knowledgeable team has done everything right. We also provide repair and maintenance services for furnaces. Schedule your installation appointment today.
*Based on financing $4,300. This payment is based on a 10.99% APR. Subject to credit approval and applies to qualified systems only. Additional terms and conditions may apply. Call for additional details.