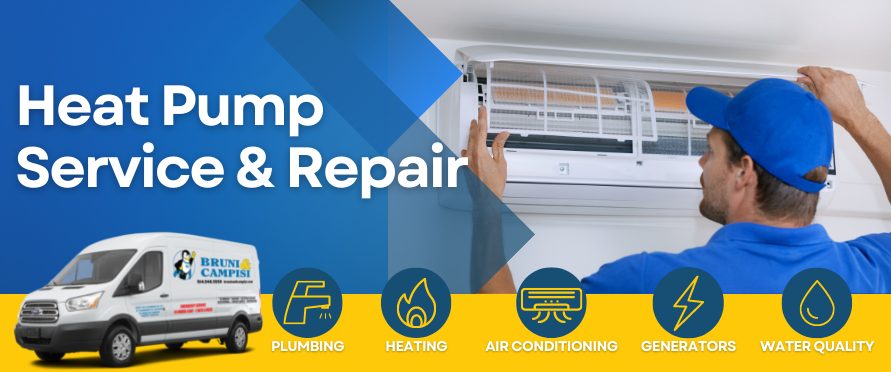 Heat Pump Repair
If your heat pump stops working, contact Bruni & Campisi for professional, knowledgeable heat pump repair in Fairfield County, Putnam County, Rockland County or Westchester County. Attempting repairs yourself can cause further damage to the system, injuries to you or an invalidated warranty. The team at Bruni & Campisi offers 24/7 emergency support and clear pricing, so you always know how much repairs will cost.
Quality Heat Pump Repair in Westchester County and Surrounding Areas
You may need to contact a service for heat pump repair for your Putnam County, Rockland County, Fairfield County or Westchester County home if you notice an unusual sound, your heat pump stops heating or responding or it suddenly uses more energy. Requesting maintenance service between visits can help preserve the expected lifespan of your heat pump and can reduce the risk of sudden malfunctions.
If you need maintenance or repairs on your air source heat pump, call the HVAC professionals at Bruni & Campisi. Our team has been helping local homeowners since 1979. With our 24/7 emergency support, we're always there when you need us.
Contact Bruni & Campisi for Heat Pump Repair
When you receive our services, you enjoy prompt responses to your service requests. We charge regular rates for scheduled service until 5 p.m. on Saturdays and 9 p.m. on weekdays, so you can always get a service call time that works for you. To make sure you're never left shivering, we have loaner heaters that you can use while we make complex repairs. Our team is equipped with the tools to service all major brands of air source heat pumps, so we can get your home warm again fast.
Our licensed and insured HVAC technicians receive continual training to serve you better. To make our services even more convenient, we offer maintenance plans that ensure your air source heat pumps get inspected and maintained properly for optimal performance year-round. Being part of our maintenance plans means terrific savings and priority service. With regular maintenance, your heat pump can last its intended lifespan, and you reduce the risk of sudden breakdowns because we can acknowledge and fix wear and tear or issues when they are relatively minor.
If your heat pump stops working as it should or is making any strange noises, contact Bruni & Campisi for an appointment. Our team can drop by to diagnose the problem, or you can talk to our team about our maintenance options.