Furnace Repair Services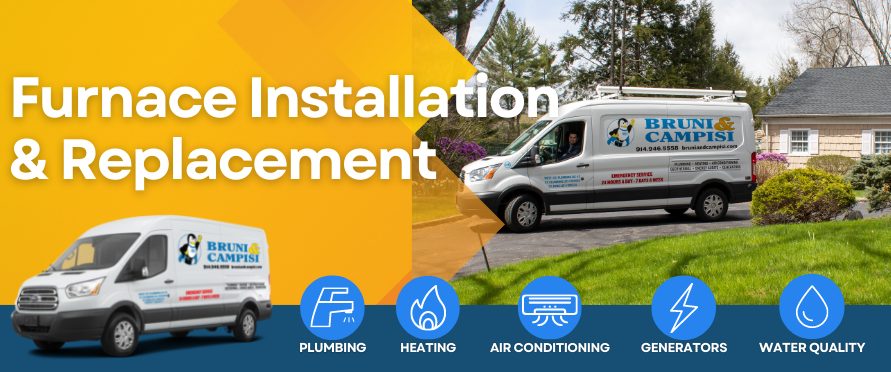 When winter weather hits, your furnace is an essential part of keeping your home warm. You will notice any malfunction or breakdown quickly, and you'll want fast service. That's why Bruni & Campisi provides 24/7 emergency furnace repairs throughout our service areas.
Whether you have an old furnace in need of replacing or a newer model that requires repairs, we can relieve your stress by providing fast and reliable service. Whatever your furnace runs on — electric, wood, gas, etc. — we're confident in our ability to provide high-quality repair services near your New York or Connecticut home.
Reasons for Furnace Repair
Furnaces are complex pieces of machinery designed with your entire house in mind, so you'll likely need a professional technician like the ones at Bruni & Campisi to get the best repair service. There are several common furnace malfunctions you should keep an eye out for to ensure your equipment is working properly.
Pilot Light
Malfunctioning pilot lights are the most common issue with old furnaces. The pilot light signals to your furnace that it's time to start heating up. If there is dirt in the machine, a strong draft or a faulty thermocouple, the pilot light may not turn on your heater. Thankfully, this common problem is also the easiest to fix, but if you're uncomfortable with troubleshooting it yourself, we are more than happy to help.
Thermostat
If your furnace doesn't produce heat or cycles on and off frequently, a thermostat issue might be the culprit. Often, either the thermostat is not properly matched to the furnace or the thermostat itself is faulty somehow. A professional can help you determine where the problem stems from and how to correct it.
Noises
Sometimes your furnace may start making unexpected noises. Although you should expect to hear some soft humming from your furnace, if it's becoming particularly noisy or making noises out of the ordinary, it's time to call in a technician to see what's going on.
Call Bruni & Campisi for Gas Furnace Repairs Near You
Bruni & Campisi has over 40 years of experience in furnace repair under our belt. Our experienced technicians stay up to date on the latest techniques and tools to provide you with the highest quality maintenance. From Westchester, Rockland and Putnam Counties in New York to Greenwich and Stamford in Connecticut, our furnace repair services will help you get everything under control. Call us to discuss our services with an expert or schedule your appointment today.