Ductless Air Conditioning Repair and Maintenance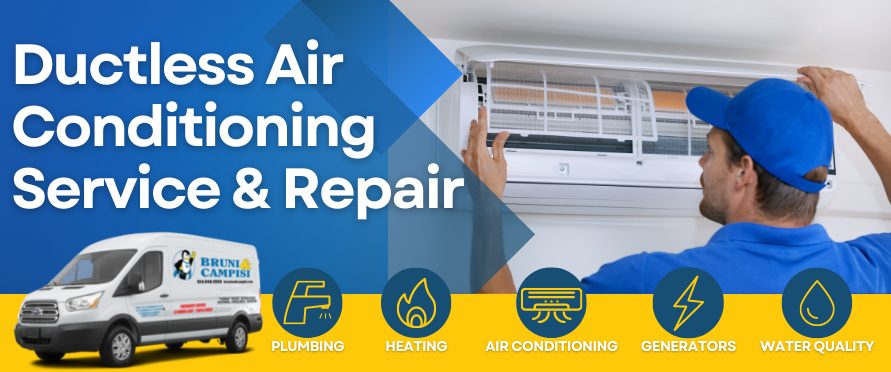 If your ductless air conditioning stops working correctly or it's been a while since the last time it received maintenance, you can trust Bruni & Campisi. We're the leading repair and installation professionals in Connecticut and New York. We work with all major brands and offer 24/7 emergency support to keep you comfortable in your home.
Finding the Right Ductless Air Conditioning Repair in Fairfield County
Whether you're in Westchester, Putnam or Fairfield County, finding the right ductless AC repair service is crucial. Regular maintenance on your unit ensures that your air conditioning system lasts for its lifespan. Proper maintenance by licensed and insured HVAC professionals also helps you detect minor issues so that you can fix them before they become expensive emergencies.
If your ductless AC needs repair, calling the right HVAC professionals ensures your problem is solved correctly the first time, so you can get back to your life in comfort. A quality service professional will show up with the tools and knowledge to fix your AC while ensuring your warranty stays intact.
Seeking the right service also means finding a team you can count on to offer transparent pricing. Look for a service with a team like Bruni & Campisi. We provide clear pricing and estimates, so there are no surprises.
Contact Bruni & Campisi
When you need ductless air conditioning repair in Westchester County, Rockland County, Putnam County or anywhere in Fairfield County, Bruni & Campisi is there for you. We offer maintenance, installation and service for all your HVAC needs, including generators and ductless air conditioning.
At Bruni & Campisi, we understand that emergencies rarely happen during business hours, which is why we're available for emergency support 24/7 and offer scheduled service at regular rates until 5 p.m. on Saturdays and 9 p.m. on weekdays.
Our team gets your air conditioner working again quickly. If we need to wait for a part or can't repair something immediately, we have loaner air conditioners to prevent you from sweating all weekend or through the holiday.
With more than 40 years of experience and ongoing training, the team of insured and licensed HVAC professionals at Bruni & Campisi gets it right the first time. We even offer maintenance plans for added peace of mind. Ask about a gold or silver plan to enjoy priority service and special pricing year-round.
Whether your ductless air conditioner is making a strange noise, not cooling a room or is experiencing other problems, contact Bruni & Campisi for an appointment.