Heat Pump Installation Services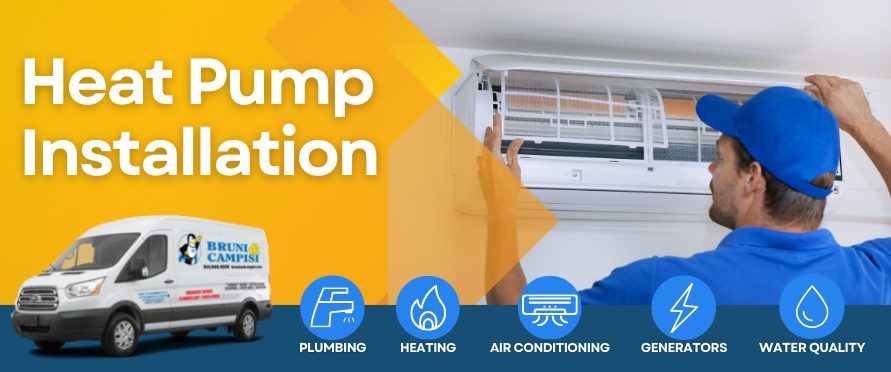 Bruni & Campisi offer professional, quality air source heat pump installation in Westchester County. An air source heat pump can be a great solution if you need a way to heat your home comfortably.
With this type of system, you can control the temperature room by room to keep your home comfortable without getting ducts cleaned yearly. The design is attractive and ideal for older homes where installing an entire duct system can be challenging. Plus, air source heat pump systems help you avoid blowing allergens from room to room, enhancing your comfort.
What Is Air Source Heat Pump Installation?
Air source heat pumps move air from inside to outside your home or from outside to inside. They can heat your home room by room to keep you cozy all year long.
If you think heat pumps are just for warm climates, you'll be pleased to know that today's heat pump systems can stand up to Connecticut and New York winters. According to the Department of Energy, air-source heat pumps use 6200 kWh less energy than oil systems for savings of about $948 annually. Heat pumps also use 3000 kWh less than electric resistance heaters, so you can save $459 if you switch.
Enjoy an efficient and timely air source heat pump installation in your Putnam County home when you work with Bruni & Campisi. Our team discusses your needs with you and evaluates your home to determine whether a heat pump may be right for you. We set up an installation appointment when it's convenient for you, and our insured and certified HVAC professionals install the system. Elevate your comfort in your home with the top brands of heat pumps and the most current technology in heating.
Contact Bruni & Campisi
An air source heat pump installation in Fairfield, Westchester, Rockland and Putnam County offers energy efficiency, good heat and an aesthetically pleasing setup. When you turn to Bruni & Campisi for your installation, our customer service and experience will make the process seamless.
Our business has been making homes in Connecticut and New York more comfortable since 1979. What's more, our comfort consultants are always standing by to discuss your home's HVAC system with you. We offer transparent pricing, 24/7 emergency support and timely, professional service. We install all major brands, and we're a NYSERDA contractor partnered with New York State, so we work with NYSERDA and other participating utility companies to help guarantee our customers receive the best rebates & incentives. These rebates are available in our New York service areas only.
If you're interested in replacing your heat system with a heat pump or would like an additional heat source, contact Bruni & Campisi for an appointment.
*Heat Pump/Ductless units are based on a 9,000 BTU system, ducted unit is based on a 1.5 ton system 6 month no interest, no payments, must pay in full prior to 6 months or else pricing converts to 84 month term at 17.99%-26.99% APR from day 1. Offer includes NY State and Bruni & Campisi rebates. Customers must qualify for financing and rebates. Inquire for full details. Offer valid while supplies last and is subject to change at any time. Rebates vary depending on your systems and geographical location. Some rebates apply to gas/oil heating replacement only. Maintenance must be scheduled by the end of the corresponding date.