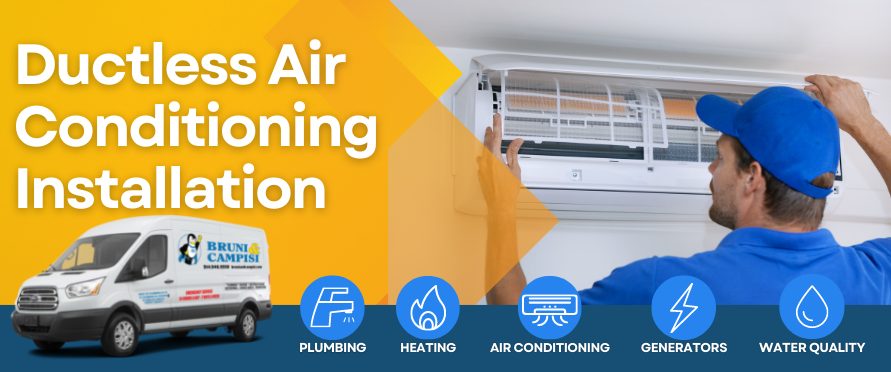 Install New Ductless Air Conditioning
A new ductless air conditioning system installation from Bruni & Campisi is a smart solution for many homeowners. Ductless air conditioning allows you to cool your home without the expense and hassle of adding ductwork to your property.
Benefits of Ductless Air Conditioning Installation in Your Home
Ductless air conditioning installation is popular in Westchester County, Fairfield County and across Putnam County because it is an effective way to stay comfortable in your space. These counties also have many older homes, which may not have ductwork for a central air system and may not qualify for ductwork installation under preservation laws.
In homes where it is possible to install ductwork, a ductless air conditioning installation may still be more efficient. Even if ductwork is installed in some homes, rooms may need insulation and renovations to make the air conditioning system effective.
On the other hand, a ductless system lets you enjoy cool air at the touch of a button without major renovations. When you choose a ductless air conditioning installation for your NY or CT home from Bruni & Campisi, you can choose to have your system installed with a remote to easily adjust the temperature of any room.
Ductless air conditioning systems don't take up room in your windows, making them attractive and efficient. If you have allergies, you will appreciate the lack of ductwork in your home because it can blow dust, pollen and allergens around your home. With systems by major brands like Mitsubishi, Daikin and Haier, ductless air conditioning lets you set your ideal temperature room by room, too, so you can keep your bedroom cooler than the rest of your house.
Contact Bruni & Campisi for Ductless Air Conditioning System Installation
If you'd like a ductless air conditioning system, contact Bruni & Campisi. Our team has helped homeowners in Connecticut and New York enjoy comfortable homes since 1979. Our insured HVAC technicians offer flexible appointments that respect your schedule and free estimates so that there are no surprises.
If you're interested in staying cool this summer in your New York or Connecticut home and want to work with professionals who take care of your property, contact Bruni & Campisi for an appointment.