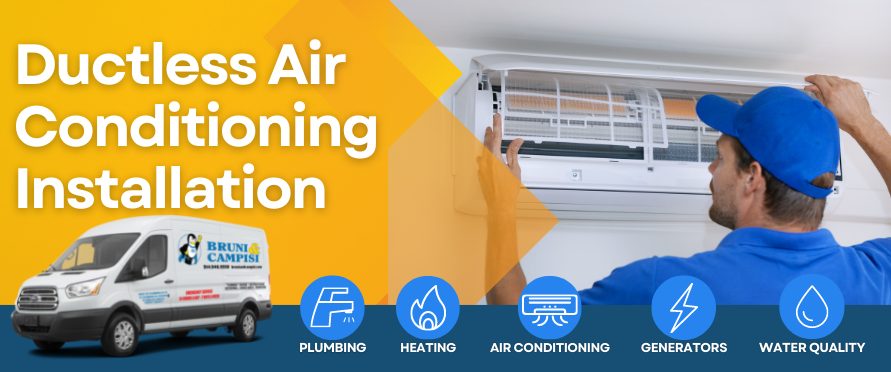 In historic homes especially, owners aren't keen on running central air units to all areas of the property. Not only would it cost a fortune to run ductwork through a large house, but it also wouldn't perform very well without completely reinsulating and modifying the construction. In some areas, because of preservation laws, it's simply not possible.
That doesn't mean you have to settle for industrial-size fans and underpowered portable units. Ductless air conditioner installation involves an exterior unit and several interior units capable of creating cold air. Unlike window units, ductless air conditioning installation is a permanent and attractive addition to any home.
Our high-efficiency systems can cool your space with the touch of a button. Bruni & Campisi installs many models controlled by remote control, so it makes it easy to adjust. Some of the models that we install are Mitsubishi, Daikin and Haier.
Besides cost-effectiveness and efficiency, installing ductless air conditioner components is excellent for allergy sufferers. You aren't tied to lengthy ductwork, so dust from all over the house is more contained. This leads to a significant reduction in dust mites and the spread of airborne germs.
Finally, ductless AC installation gives you the freedom to set the temperature on a room-by-room basis. Stop fighting over the thermostat, and enjoy the clear, crisp feeling of cool indoor air. It's the perfect solution to a sweltering summer day spent in an older home without updated or adequate HVAC equipment.
Already have a ductless AC system in your home? We perform repairs and maintenance on these systems as well. If your ductless AC system isn't working properly, contact us and we will send out one of our experts to repair your cooling system. You can also schedule your own appointment online!