Geothermal Heating & Cooling Systems
Are you looking for a reliable, cost-effective way to keep your home comfortable throughout the year? A WaterFurnace geothermal heat pump installation by Bruni & Campisi enables you to access renewable solar energy from below the earth's surface. You'll get an efficient heating and cooling solution — and save some money on your energy bills.
How Does a Geothermal Heat Pump Work?
You already know that air temperatures in the Northeast vary widely throughout the year. But what you might not realize is that the temperature just a few feet below the earth's surface typically stays between 55 and 70 degrees Fahrenheit, regardless of weather conditions or climate. This temperature consistency results from the ground's ability to absorb up to 47% of the sun's heat as it hits the surface.
WaterFurnace geothermal heat pumps tap into this free, constant energy source via a network of underground pipes called an earth loop. During the winter, the pump draws heat from an underground reservoir and circulates it through your home. In summer, the process works in reverse. The pump gathers hot air from inside and moves it outside to the cooler earth to remove the heat. The cooled air then re-enters your house.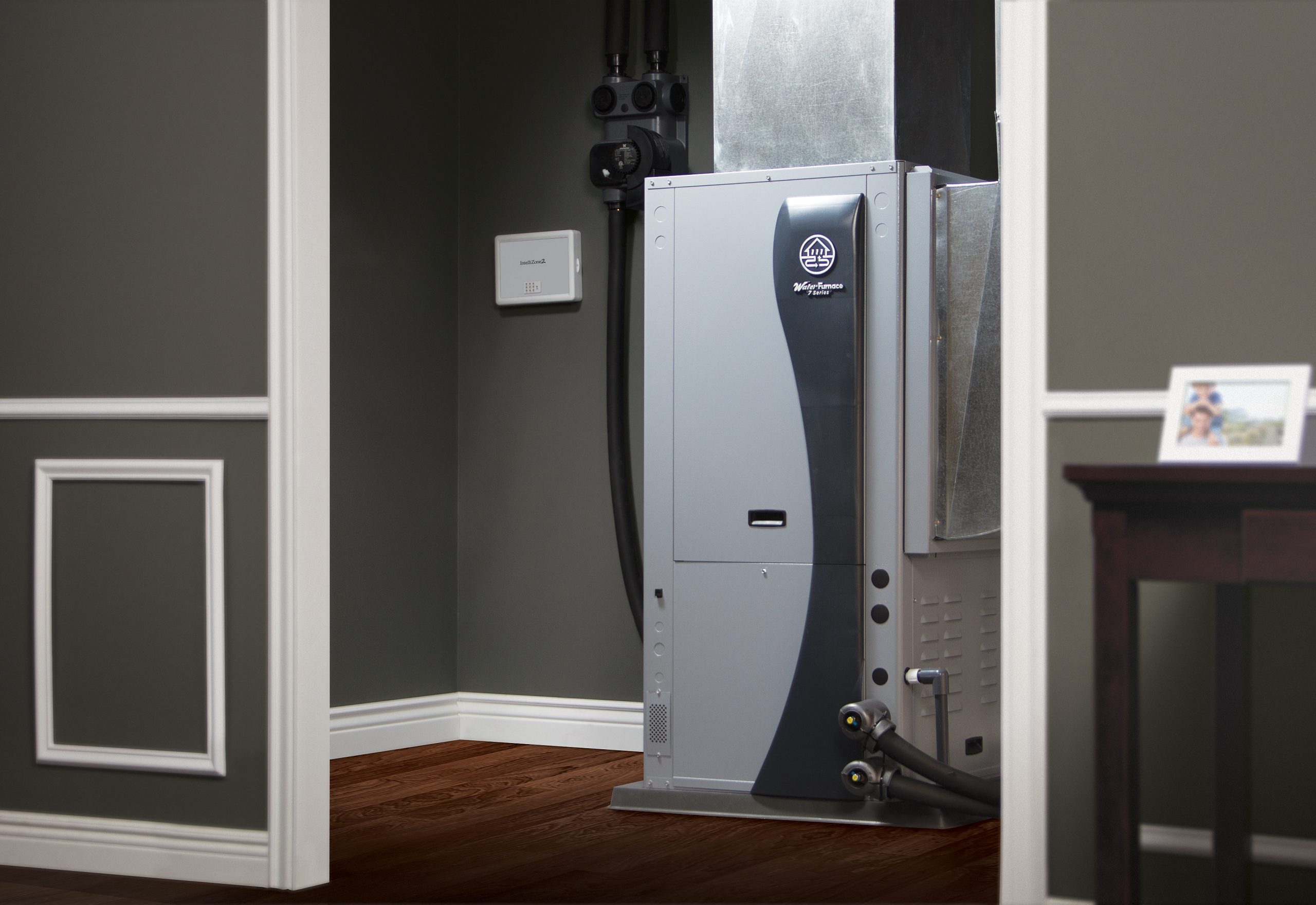 The Benefits of WaterFurnace Geothermal Heating & Cooling
WaterFurnace has been a leading geothermal heat pump technology innovator since 1983. The benefits of a WaterFurnace geothermal installation include:
Energy efficiency: WaterFurnace systems lead the way in energy efficiency. While an ordinary system produces less than one unit of energy for every unit it consumes, WaterFurnace products deliver more than five units per each one they use. The difference results from the "free" energy that comes from the earth.
Consistent comfort: These geothermal systems provide more temperature consistency and stability while eliminating hot or cold spots. You get more precise temperature control throughout your home.
Quiet operation: Are you tired of hearing your central air conditioning unit drone on throughout the day and night in summer? A geothermal heat pump runs at lower speeds, producing less noise.
Environmentally friendly: According to the EPA, geothermal systems represent the most eco-friendly residential heating and cooling solution. Because they rely on solar energy, they eliminate many of the environmental risks associated with fossil fuel products. The absence of flames and fumes also makes them a safe choice.
Cost-effective: The money you save on your monthly energy bills enables you to recover the upfront cost of a WaterFurnace geothermal system quickly and maximize your return on investment. WaterFurnace even has an online calculator you can use to see how much you could save.
Trust Bruni & Campisi for Your WaterFurnace Geothermal Installation
Bruni & Campisi is a full-service HVAC contractor that's been helping New York and Connecticut homeowners stay comfortable and reduce their energy bills since 1979. We'll perform a fast, professional WaterFurnace geothermal installation and ensure you know how to maximize your system's efficiency.
Contact us today to learn more about the many benefits of installing a WaterFurnace geothermal system in your home. You can also schedule a convenient appointment online or give us a call at 914-269-6760 (NY) or 203-263-9662 (CT).